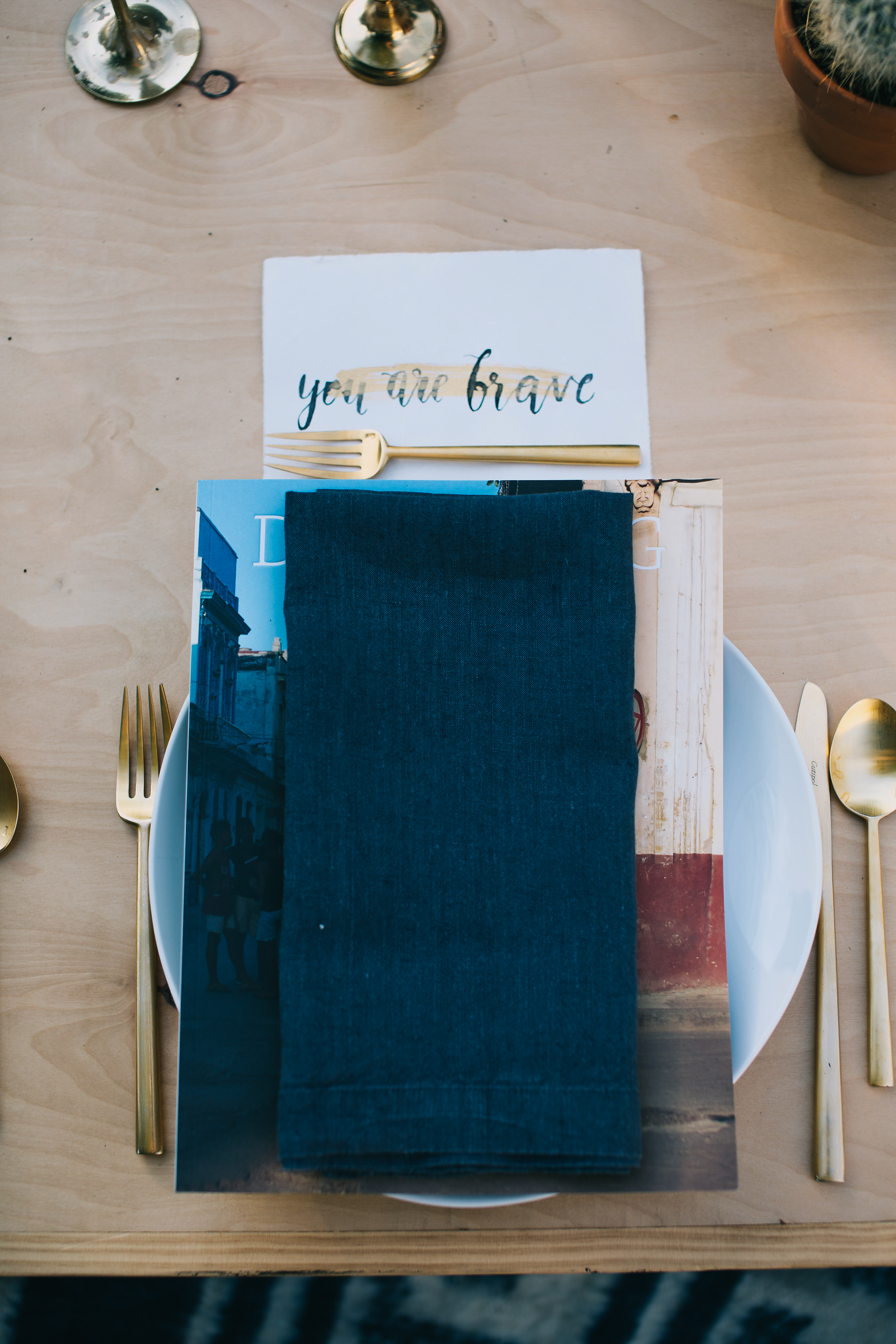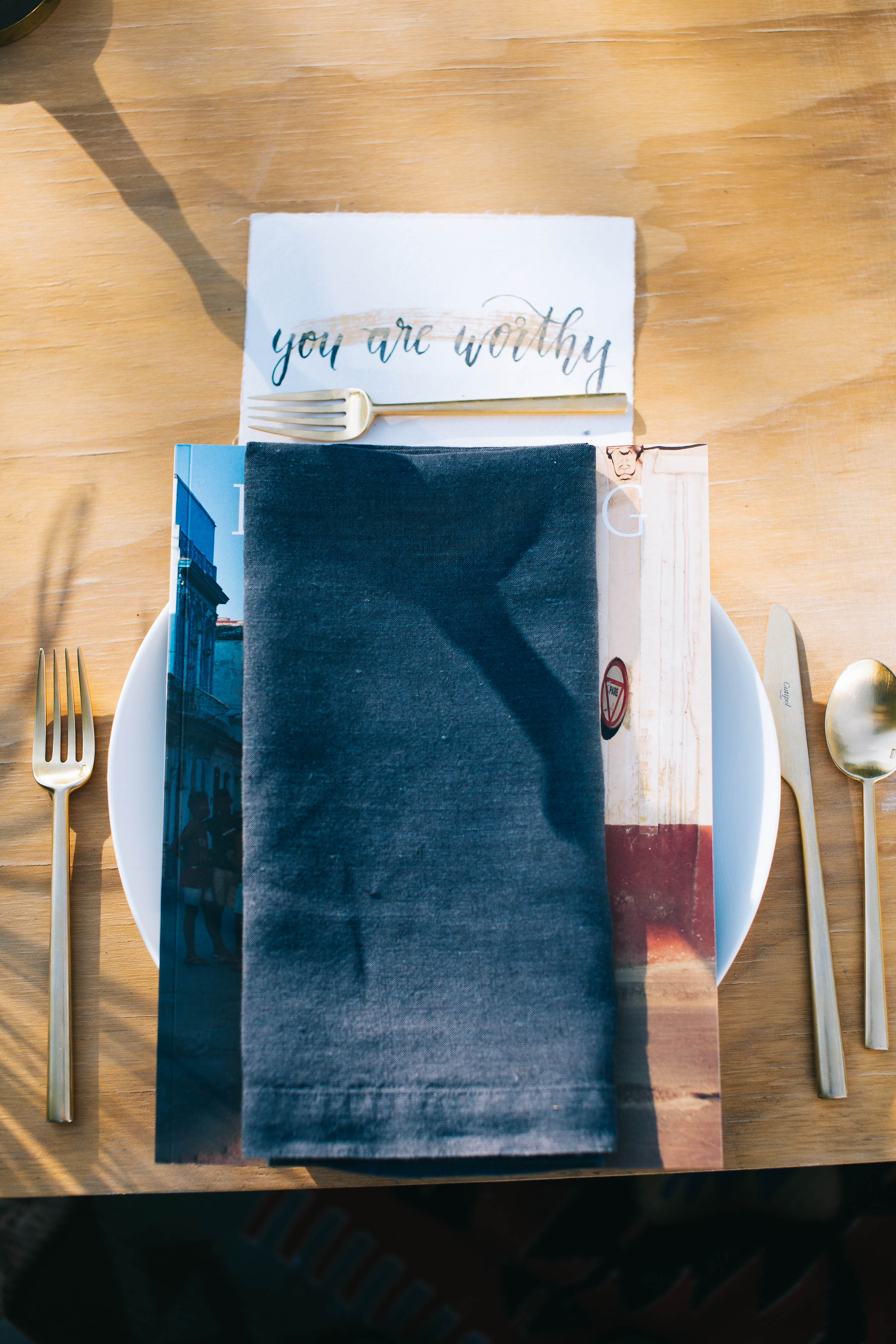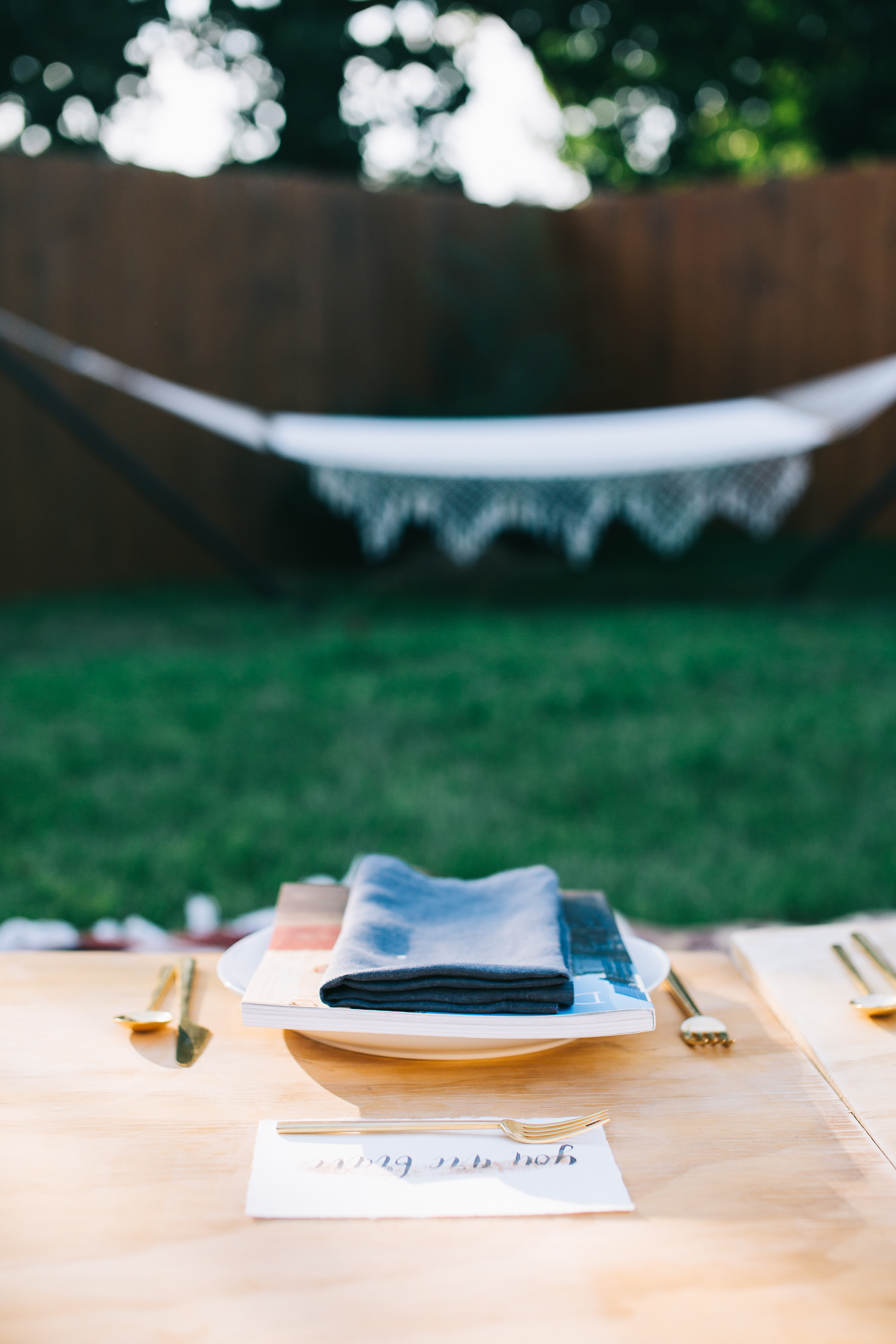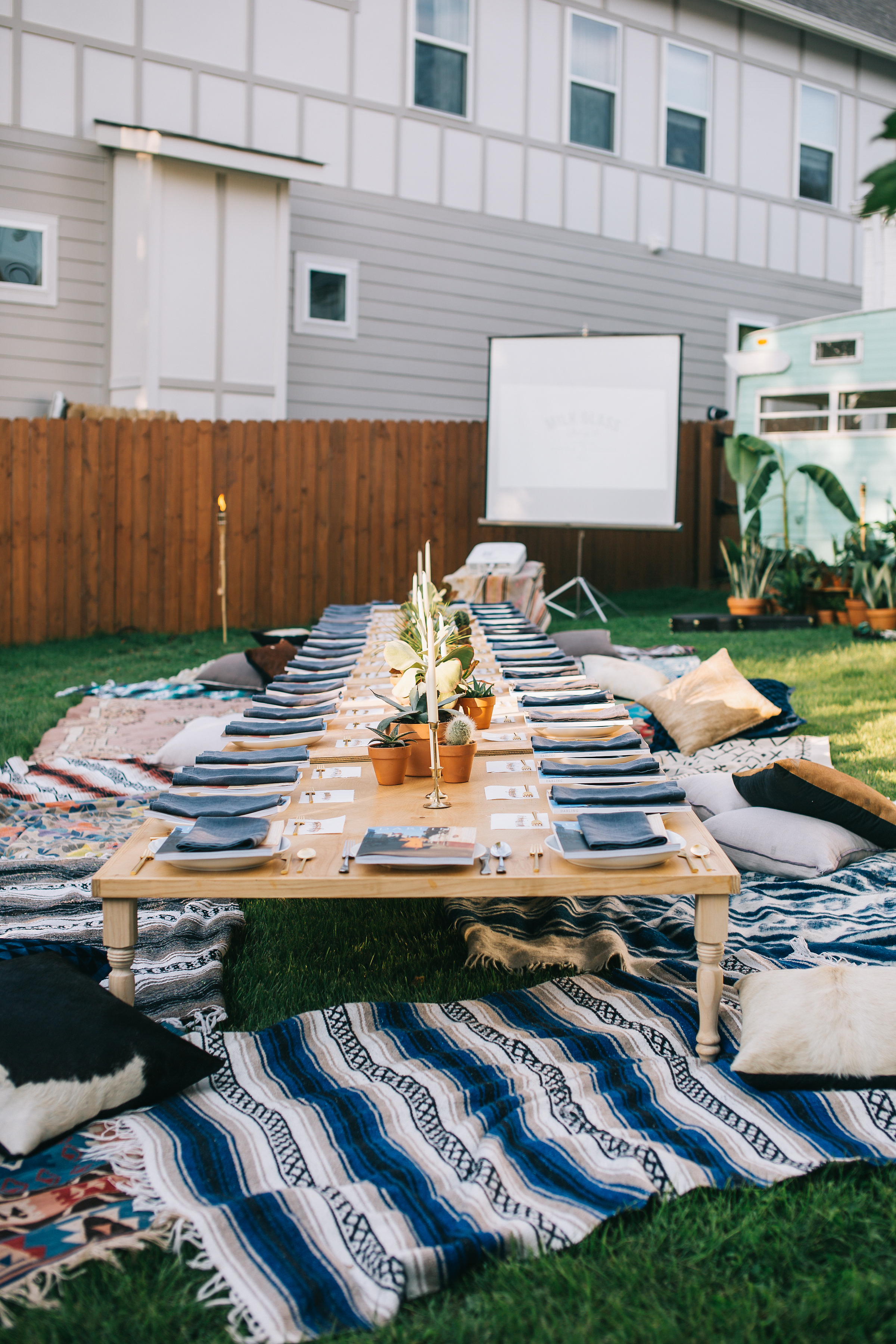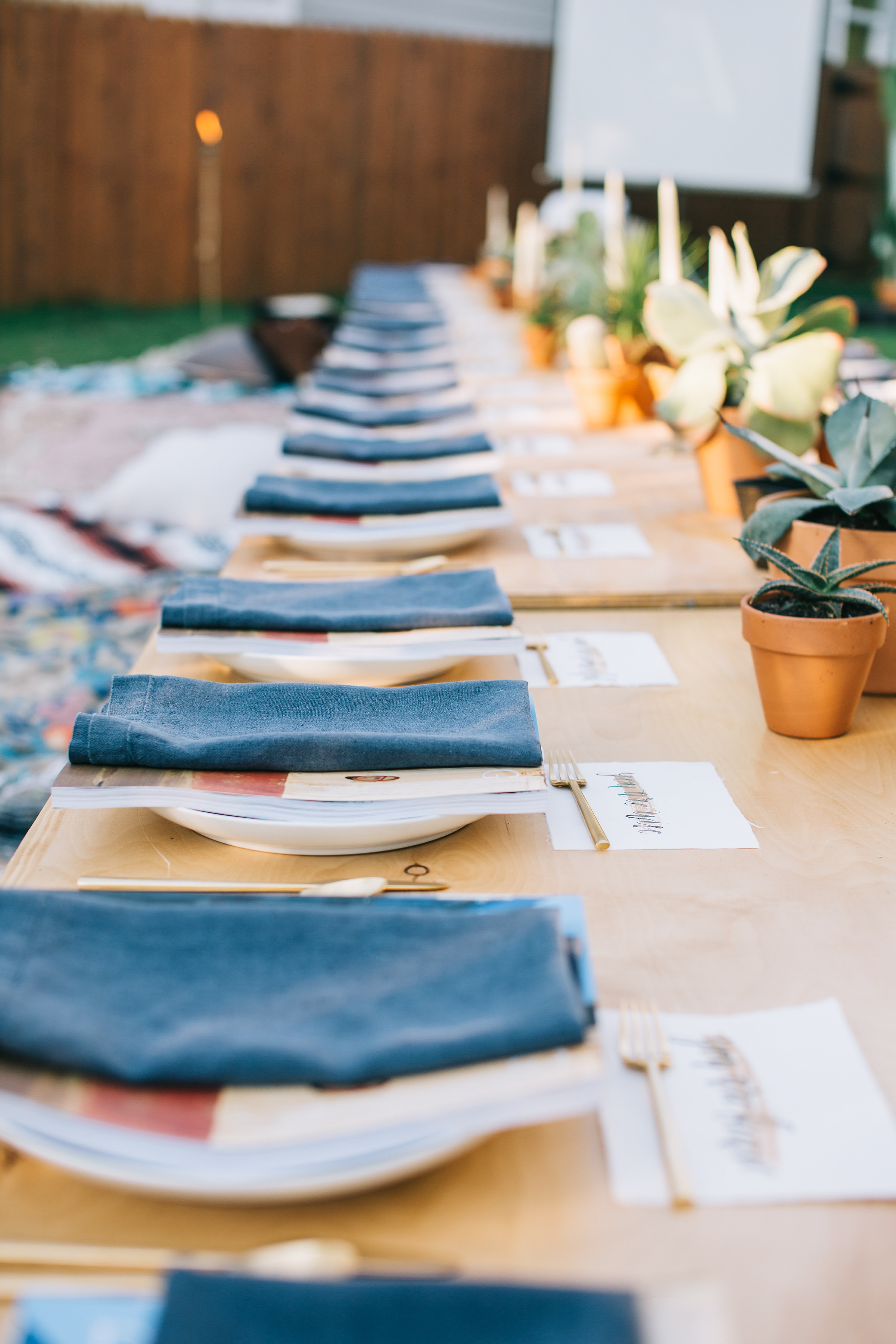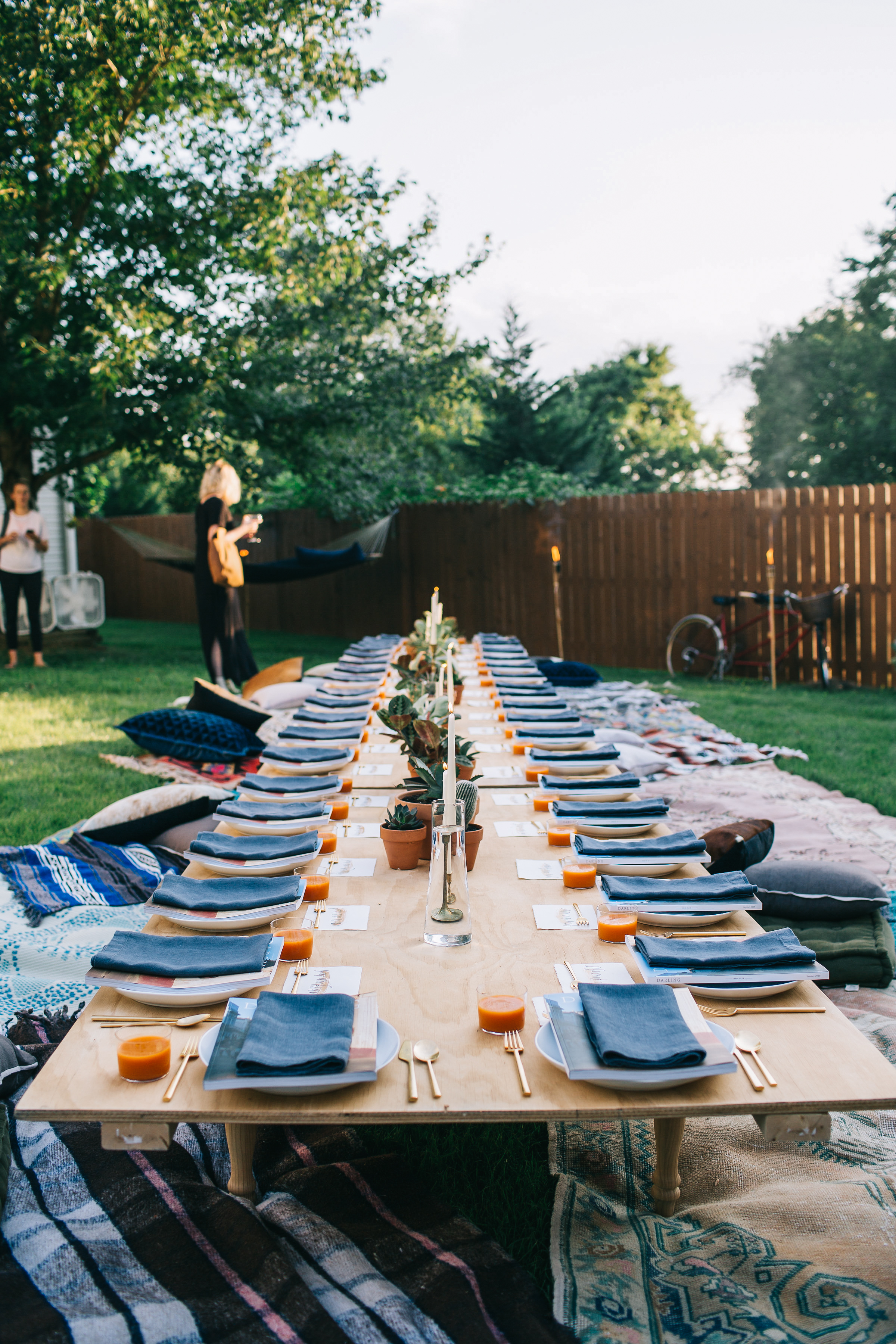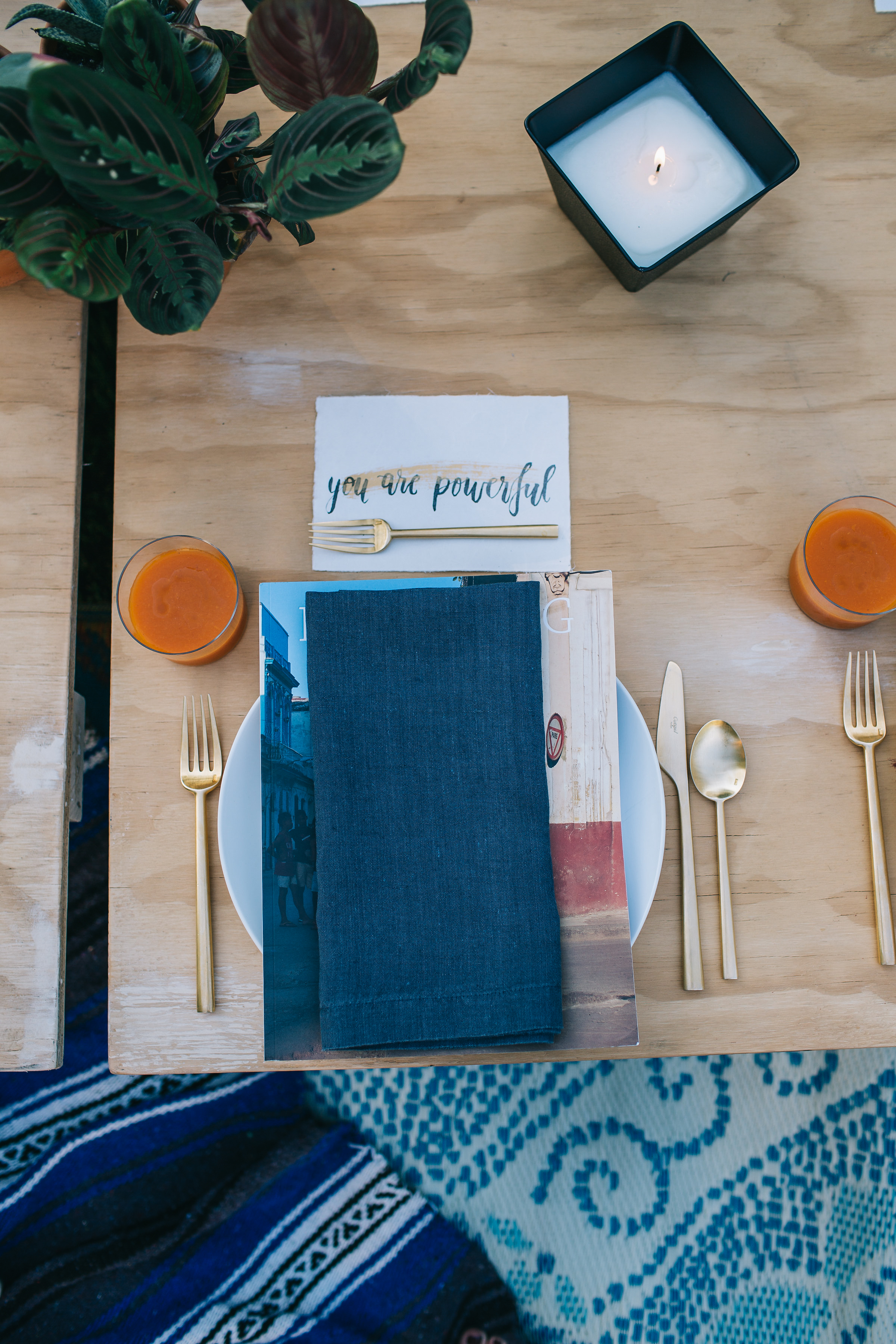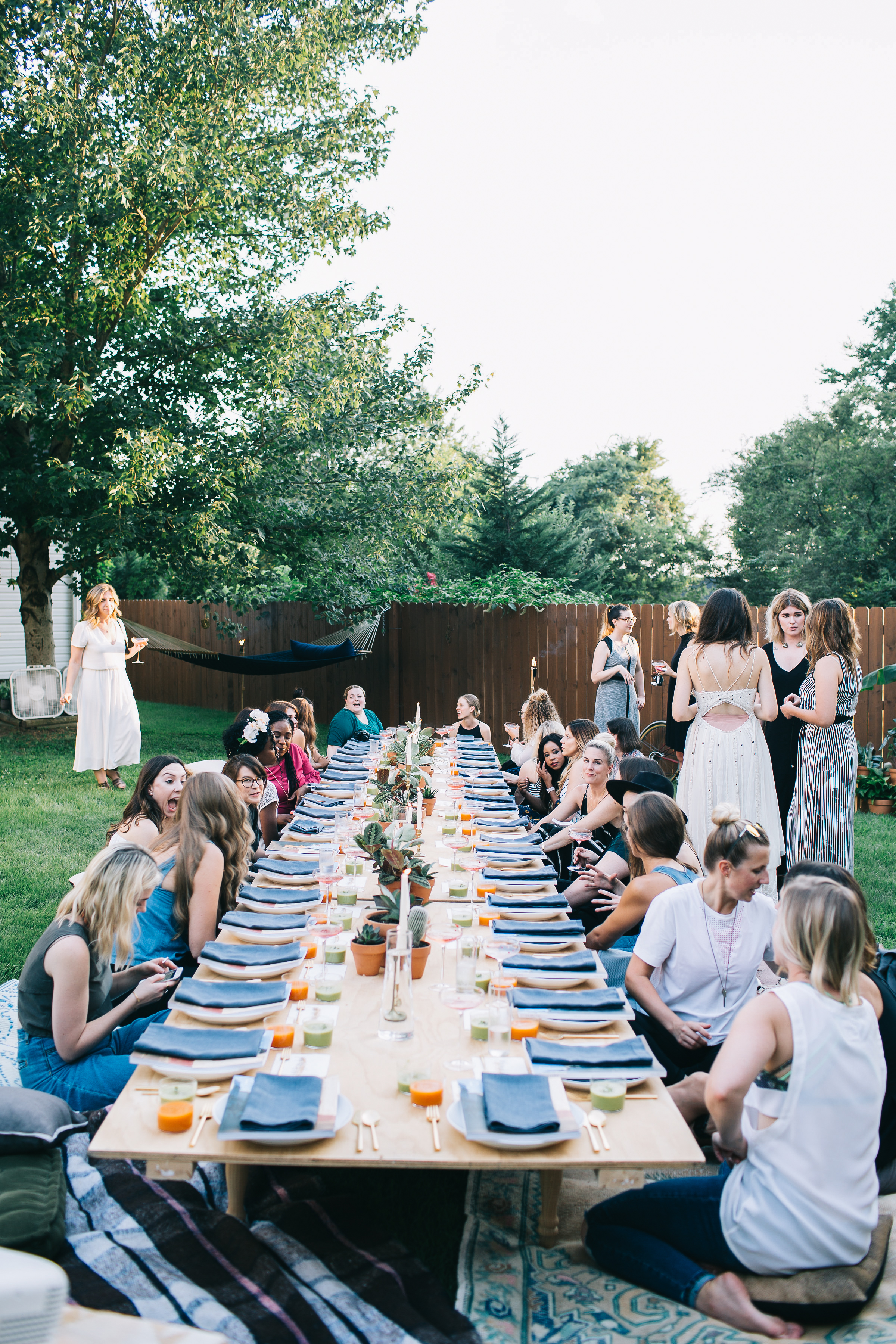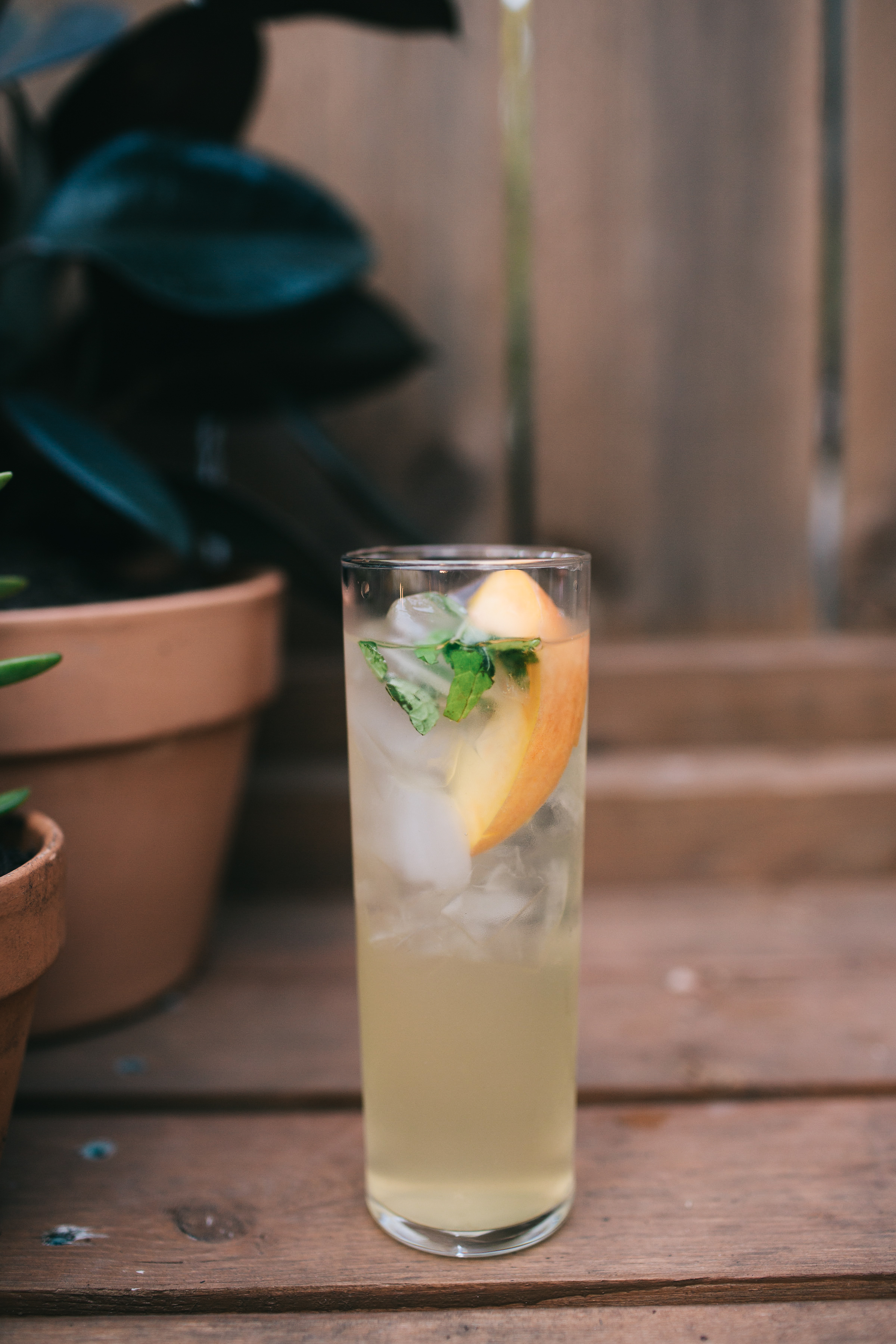 Special thanks to: Kimberly Parker of Skyview Airbnb | This space was the perfect setting to host our second Supper: At Our Table! These bohemian tables made this dinner even more intimate and lovely! Thank you to Emily Neikam for accommodating us so well!
Courtney Gott of Nourish Nashville | WOW! Our mouths water just thinking about the meal Courtney prepared. Courtney used locally sourced items for the menu and was intentional about the food being just as healthy as it was tasty. She definitely succeeded!
Jade Wilkison of Milkglass Baking Co. | One of our favorite desserts to date. Jade used fresh peaches from The Peach Truck to make a Bourbon cookie topped with peaches and a homemade whip cream. DELISH!
12th Table | It was important to us to have an elevated place setting since it we had casual backdrop. We loved the juxtaposition of the gold flatware, beautiful glassware, indigo linen napkins and clean ceramic plates on these low-to-the-earth, rustic, boho tables.
Flora | This was our first time using plants exclusively as event decor and it will most definitely not be the last! Kate + Kerbi were incredible to work with and we loved seeing their vision come to life. Flora added that "special factor" to this supper and the best part? Each plant was for sale!
The Peach Truck | If you live in Nashville, you know how The Peach Truck is a summer staple in town. We were so excited when we found out that they were generously sponsoring this event! Thank you, thank you!
Ziza Bauer of Darling Magazine | All three of us did a little happy dance when we got word that Ziza accepted our invitation to speak on identity at this supper! We met Ziza at our first dinner and knew immediately that she was someone worth knowing. She shared the importance of knowing your identity beyond what you do and finding that within, amid the lies we tell ourselves that prevent us from being the person we want to be. SO. GOOD. We were also able to provide each guest with the most current issue of Darling Magazine - we are huge fans/subscribers!
Jillian Edwards | This sweet songbird serenaded us into dusk and it was a pretty magical moment. We love this women and all the good she brings into this world.
Suzanna Hendricks + team | Suzanna orchestrated this entire evening and saw that everything went seamlessly from vendors and sponsors to our guests' experience. Her team did an incredible job setting up and tearing down; running last minute errands and all with a smile. We couldn't have done it without them! Eli LaFlamme did a wonderful job creating a tasty signature cocktail, an amazing sangria and a bubbly beverage for our guests as they entered the space.
Debria Love | What an inspiration! Debria provided spoken word for the evening. Her message and delivery was empowering and life-giving. She celebrates and encourages women of all ages to see how beautiful and worthy they are.
Shelby Goldsmith + Kenzie Maroney | THESE GALS! They always capture our Suppers so beautifully and honestly. Both Shelby and Kenzie have been ready and willing to not only contribute film and photography for these suppers but work hard to be helpful in anyway possible. We are blown away by their talent but even more so by the women they are.
Poppy & Monroe | Karen + Sherri, owners of Poppy & Monroe in Germantown generously offered each woman an amazing offer at their shop! The support we've received from these girl bosses has been nothing short of encouraging and beautiful.
Emily Perino | This lovely lady made all of the place cards for each guest by hand so beautifully and flawlessly. So thankful for this girl's talent and loved that her handwritten cards gave the tablescape such a personal touch.
Brett Taylor | From the many trips to Home Depot, loading/unloading and loading/unloading again, getting extra wood (thank you Kate Hinrichs and James Worsham of Handy Dandy Productions!) to put together an extra table, running sound in the sweltering summer humidity to bringing our team drinks from Sonic so we stayed cool - this guy wins.